Greater Bandwidth, Lower Interference
These durable, high-reliability connectors and cable assemblies are part of the proven KingsWin™ portfolio from Winchester, delivering greater bandwidth and less interference than conventional coaxial technology.
Reliable Performance In Harsh Environments
The Triax Series is ideally suited for a wide range of challenging applications including commercial and military aircra, missile systems, and broadcast and medical systems.
Customized for Unique Requirements
Triax TRB connectors have a BNC-type interface and are available in a 2, 3, or 4 stud bayonet coupling. Triax TRT connectors feature a threaded coupling and TNC-like interface. Custom triaxial designs are also available to handle unique requirements in mounting congurations, coupling styles and frequency ranges.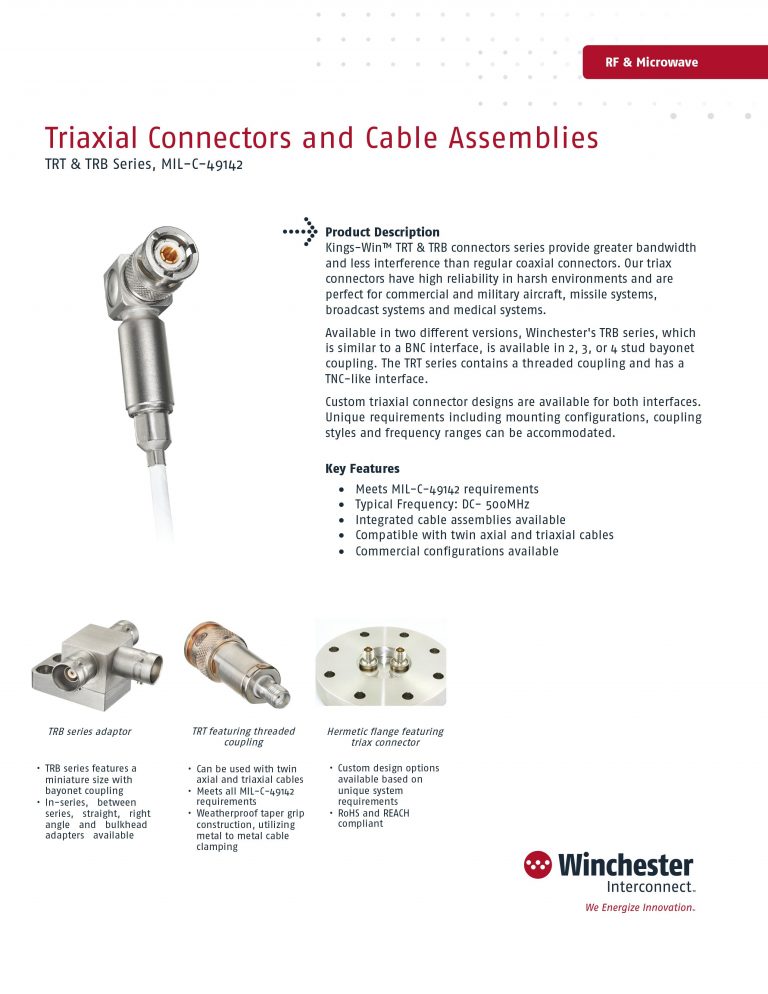 Meets MIL-C-49142 requirements
Typical Frequency: DC- 500MHz
Integrated cable assemblies available
Compatible with twin axial and triaxial cables
Commercial configurations available
Impedance: 50–75 Ohms
Frequency: DC–500MHz
Temperature Range: -65° C to +165° C
Body Materials: Brass Alloy
Contact Materials: Beryllium Copper/ Brass Alloy
Insulator: PTFE
Mil Std. MIL-STD-1344
Durability: 500 Cycles