The Best Brands in One Place
Kings Electronics products, like the SC Series Connector is now sold under the Kings-Win™ brand from Winchester Interconnect™.
Reliable Performance In Harsh Environments
Used in a variety of applications, the SC connector is available in Commercial and Military-specified versions. The durable and weatherproof features make Winchester's SC connecter reliable in any environment. 
Standard and Custom Configurations
If you have a specific part number you're interested in, use our distributor inventory search to see what is available today, or contact us for custom designs.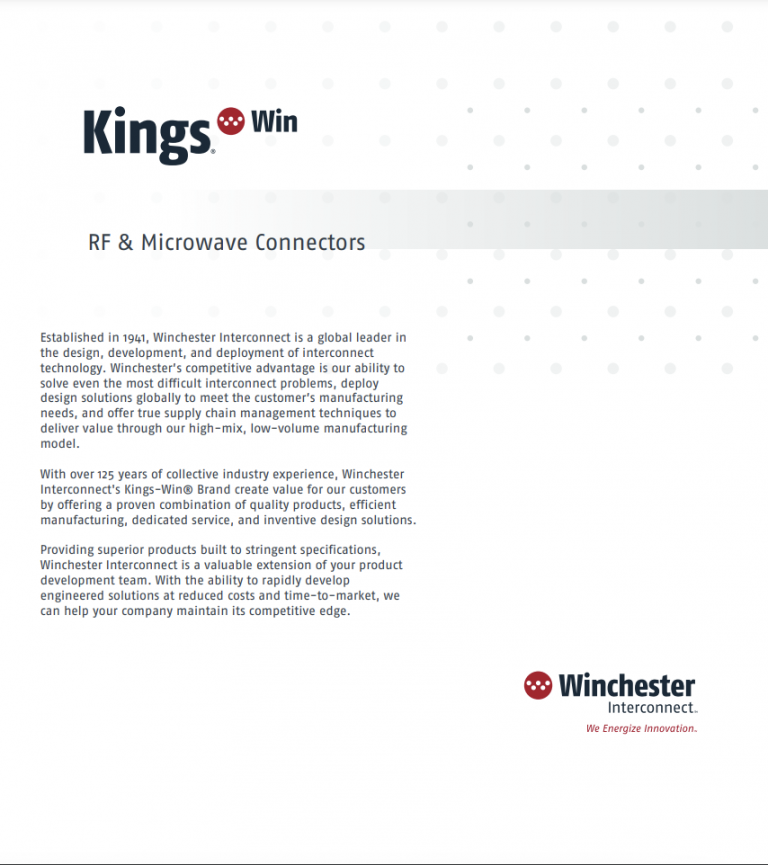 Threaded version of the C Series connector
Durable and weatherproof – ideal for harsh environments
Keyed versions available to prevent mismatching and misalignment in critical applications
Impedance: 50 Ohms 

Frequency: DC to 11 GHz

VSWR: 1.30 Max, DC to 11 GHz

Insertion Loss: .15 dB Max at 9 GHz

Temperature Range: -65˚C to +165˚C

Body Materials: Brass 

Contact Materials: Brass, Beryllium Copper

Insulator: PTFE

Mil Std: Corrosion Resistance MIL-STD-202, Method 101, Cond B / Vibration MIL-STD-202, Method 204, Cond B / Shock MIL-STD-202, Method 213, Cond A

Durability: 500 Cycles